Debra (Debbie) Ann Simons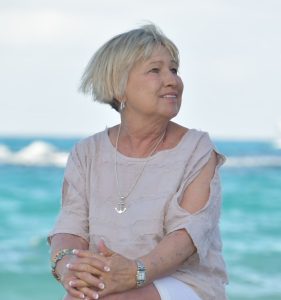 Debra (Debbie) Ann Simons of League City, Texas, went to be with our Lord, April 13, 2023. She was born December 7, 1950 in Slaton, Texas. She was preceded in death by her parents, D.J. and Nell Hlavaty; husband, Steve Simons; and brother and sister-in-law, Tom and Pam Hlavaty. Debbie and Steve were married 18 wonderful years until Steve's death on November 1, 2014.
Debbie graduated from Lubbock Cooper High School in 1968.  She loved spending time with family and friends and was a constant instigator of bringing everyone together for a good time. She and Steve had a great love and appreciation for travel and music. They attended many concerts and were active members of the Galveston Bay Parrot Head Club, helping to raise money for local charities. Debbie developed a successful career as a travel agent in organizing, creating, and leading group cruises for local wineries and their patrons. She was an active member of Clear Creek Community Church and served in the children's ministry.
Debbie is survived by her brothers: Danny Hlavaty and wife, Monika, of Ransom Canyon, Texas; Doug Hlavaty and wife, Valerie, of Woodrow, Texas; and Lance Hlavaty and wife, Barbara, of Lubbock, Texas.
Debbie is also survived by her sons: Corey Newsom and wife, Barbara, of Willis, Texas; Scott Newsom and wife, Annette, of League City, Texas; Everett Simons and wife, Colleen, of Kingwood, Texas; Gabe Simons and significant other, Pam Vandiver, of Houston, Texas; Levi Simons of Houston, Texas; and seven grandchildren: Zachary, Tyler, Hannah, Caleb, Chloe, Jacob, and Andrew; along with many cousins, nieces, and nephews.
A funeral service will be held at 2:00 p.m. on April 17, 2023, at Clear Creek Community Church at 4201 FM 528 Road, Friendswood, Texas. A brief visitation will precede the service at 1:00 p.m.
Debbie will be laid to rest at 3:00 p.m. on April 22, 2023, at Slaton Englewood Cemetery in Slaton, Texas under the direction of Englunds Funeral Service at (806) 828-3535.
Please consider donating to the American Heart Association https://www.heart.org/ or Clear Creek Community Church https://www.clearcreek.org/next-steps/giving/ in lieu of flowers.
The family would love for you to share your memories in the condolence section below.