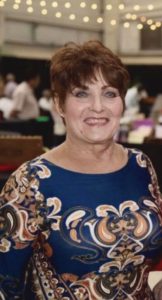 Debbye Davidson, 68 , of Houston, Texas, passed away unexpectedly on January 16, 2020. She was born in Houston, Texas, where she continued to live as a lifetime resident. Debbye attended Austin High School, before attending San Jacinto Junior College. She was a member of the Houston Spinnerettes, and a devoted Lifetime Member of the Houston Livestock Show and Rodeo where she worked on various committees over the years.
Debbye was blessed with so many talents, most notably her love for dancing, gardening, cooking, and caring for her four loving companions (dogs) who were her babies. There was never a dull moment if Debbye was in the room. She had a vivacious larger than life personality never having met a stranger. She enjoyed a good party but loved hosting parties even more, where you were always well-fed, well-loved, and well-laughed after being there. Debbye loved and treasured her family and especially loved her role as "Lollie" to her twin grandsons who were the absolute joys of her life. Debbye's attractively lively and animated personality will be sorely missed by all that knew her.
Debbye is survived by her husband, James Davidson; Daughter Darice Whatley and son in law Ron; Grandsons Asa & Ty. Brothers Chandler Anderson (Dorothy), David Airhart (Debra), Daryl, Dale; Cousin Douglas Foster (Martha) and numerous nieces, nephews and many loving friends, including Victor Colonnetta and Diane Beck. Debbye is preceded in death by her sister, Denise Airhart-Feyrer.
Services: Thursday, January 23, 2020, Crowder Funeral Home, 111 E. Medical Center Blvd, Webster, Texas
Visitation: 5:00pm – Service: 7:00pm with brother, David Airhart officiating. Please wear Red or Color to the services as we Vibrantly honor Debbye.
Debbye was so very proud of her grandsons. She was excited about helping the boys raise money for their Eagle Scout project at the Bay Area Veterans Memorial in Seabrook Texas. She was even going to contact State Representatives and Congressmen. Should you be so inclined to help, a donation box will be located at the service.
Debbye danced her way to the heavenly gates……