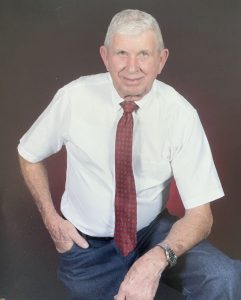 Dean Michael Chatterton, 90, of Galveston Texas went peacefully to be with the Lord on October 12th. He was born to the late Glenn and Melba Chatterton on July 27, 1933, in Los Angeles, California.
Mike retired in 1992 from Occidental Petroleum Corporation after a long-storied career. Mike spent much of his life living in Crystal Beach, Beaumont, Santa Fe, and most recently Galveston. He served in the Korean War in the US Navy and was assigned to the USS Iowa battleship. He was happiest volunteering at First Baptist Church, Alta Loma helping with facility and property maintenance and the different ministry programs.
Mike was survived by three children: Steve Chatterton of Crystal Beach, Thomas Chatterton and wife Nicole of Galveston, and David Chatterton and wife Debra of Dallas. He was also survived by eight grandchildren and five great-grandchildren.
A Celebration of Life service will be held Sunday the 15th at the First Baptist Church, Alta Loma located at 5400 FM646, Santa Fe, TX 77510 starting at 3:00 pm. We are inviting all family and friends to attend the service along with a social gathering to celebrate his beloved life.
Mike loved his church and in lieu of flowers, the family is requesting donations be made to First Baptist Church, Alta Loma 5400 FM646, Santa Fe, TX 77510.