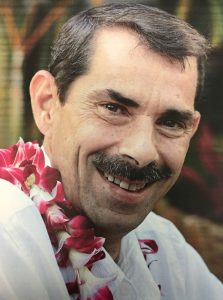 David Michael Geronimo, 59, of Pearland, Texas passed away in Webster, Texas on September 07, 2017.  Mr. Geronimo was born on November 28, 1957 in New Brighton, Pennsylvania to John Edward and Phyllis Marie Geronimo. David was born, raised and started his family in Western Pennsylvania. He made his way to Colorado with his family and eventually planted his roots as a resident of Pearland, Texas and a member of St. Helen Catholic Church for the past 20 years.
Mr. Geronimo is survived by his loving wife of 36 years Lisa Geronimo; daughter Julia Rene Bordelon and husband Mark; three sons Justin David Geronimo, Michael James Geronimo and wife Brooke, and Matthew Francis Geronimo and wife Brittany; three sisters Mary Beth Ntiros, Roselyn Morandell and Anna Marie Geronimo; two brothers John Edward Geronimo and wife Catherine and James Felix Geronimo and wife Kirsti; three grandchildren Emma Camille Geronimo, Oliver Felix Bordelon and Elliott Abel Bordelon.
There will be a Visitation Tuesday September 12, 2017 from 5:00 p.m. to 8:00 p.m. at Crowder Funeral Home 2422 Broadway Pearland, Texas 77581. Funeral Mass will be 11:00 a.m. Wednesday September 13, 2017 at St. Helen Catholic Church in Pearland, TX. Burial will follow at SouthPark Cemetery in Pearland, Texas.
Pallbearers will be Justin Geronimo, Michael Geronimo, Matthew Geronimo, Mark Bordelon, John Geronimo, James Geronimo.
In lieu of flowers please make memorial donations to: Purple Heart Foundation, 7008 Little River Turnpike Annandale, VA 22003, www.purpleheartfoundation.org