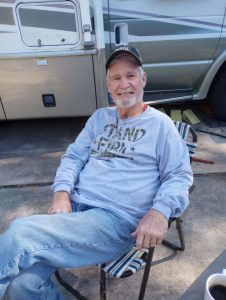 David Mark Clark, 70, resident of Alvin, passed from this life, March 13th, 2023. David "Mark" was born to parents, Donal Clark and Hazel Ingram, on February 4th, 1953, in Galveston, Texas.
David "Mark" was a sports enthusiast with baseball being his favorite. He was well known as the Texas City Stingrays' #22 football quarterback where he helped lead his team to numerous victories. He was once cited as the "Do Everything Player from Texas City" in the Galveston County Daily News and went all-district for two years in a row. David "Mark" was also well known in the Texas City baseball community having started his career in little league and working his way up to a Stingray shortstop for Texas City High School until he graduated in 1972. His ability in baseball landed him a full ride scholarship to Blinn Junior College where he played shortstop for the Buccaneers and majored in physical education. Ultimately David "Mark" ended up only coaching for fun and made his career in management and sales.
In 2015, with a medical retirement, David "Mark" and wife Brenda began a new adventure into the world of traveling. Together they made a life of exploring Texas State Parks where they relaxed, worked, and created new friendships with people from all over the nation. David "Marks" spare time was often filled with bird watching, wood working, and socializing with other campers. When the Clark's weren't out camping, they could be found at their daughters' or sons' home where David "Mark" was surely helping with yard work or some other honey-do, or enjoying time watching the grandkids sports games or plays.
David is preceded in death by his father Coach Don Clark, mother Nurse Hazel Clark, brother Jeff Clark, and his father-in-law Kenneth Hunter.
David leaves behind to cherish his memory his wife of 45 years Brenda Clark; daughter Rori Nance and husband Nathan; son Caleb Clark and wife Asia; sister Deborah Trigg and husband Will, brother Doyle Clark and wife Gina; 9 grandchildren, and 1 great-grandchild.
In his honor, there will be a visitation on Saturday, April 1st, 2023, at Crowder Funeral Home's Chapel in Dickinson, Texas at 1pm with the memorial service at 2pm. Immediately following is A Celebration of Life at the VFW in Dickinson.