David Magill (Francis David Magill Jr.)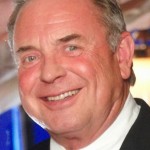 David Magill (Francis David Magill Jr.) passed away peacefully in his home on January 19, 2014, surrounded by his wife and children. He was born to Julia Scholl "Judy" Magill and Francis David "Frank" Magill in Montclair, New Jersey on October 7, 1943.
David was preceded in death by his eldest son, Charles David "Chuck" Magill. He is survived by his wife of 21 years, Angela Magill, and 3 surviving children: his daughter Darby Magill Sager of Menlo Park CA and Brian Sager and sons, Aidan and Brennan. Survived by son Daniel Magill, Melissa Magill, daughter Delaney, and another daughter on the way. Additionally survived by another daughter, Debra Magill of Palm Harbor Florida and Rick Bales. He is also survived by grandsons Nikolas and Alex Magill of Houston TX and their mother, Marina Miklaszewicz-Magill and Robert Miklaszewicz, and many in-laws, nieces, nephews, friends and family too numerous to list but not forgotten.
David received an Engineering degree from Virginia Polytechnic Institute in 1965 and an MBA in 1975 from Louisiana State University.David, an icon in the chemical grout industry, led Avanti International since 1978 until his son Daniel took over leadership in 2008.
David loved cruising – on his boat and on large cruise ships, around continents or up and down rivers. He really liked to read (novels, history, spiritual) and to listen to music (smooth jazz, some country, some easy). He was a friend and mentor, and an inspiration to many. David will always be remembered for his generosity, optimism, non-judgmental acceptance of others, and for his overwhelming kindness to help anyone in need.
David's Memorial service will be held on Sunday, January 26th at 3:30 pm at Lakewood Yacht Club, 2425 Nasa Pkwy, Seabrook, TX.
In lieu of flowers, donations may be made to
St. Jude Children's Research Hospital
Online or Phone: 800.822.6344
Tribute Account #: 35199222