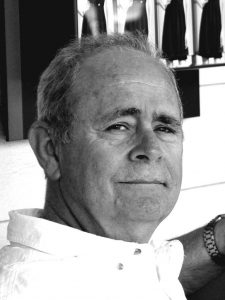 David L. Gaines, 71, passed away on July 25, 2017 in League City, Texas. A man of deep and abiding faith, he departed this life with the peace of salvation through Jesus Christ.
David was born to Myrle and Patricia Gaines on November 16, 1945 in San Antonio, Texas. He is preceded in death by his parents and sister, Donna Custer. He grew up in Corpus Christi and proudly served in the United States Navy from 1968-1972 as an Electronics Technician. He received a Bachelor of Science degree in Electrical Engineering from Texas A&I University – Kingsville in 1973. Throughout his 40-year career, he took a special interest in mentoring junior engineers.
David married his best friend, Cheryle Anne Foley, on February 3, 1968, and they were blessed with two sons. A devoted family man, he led by example and insisted upon high standards for himself and others. He was an active member of the Clear Creek Community Church, where he served as a greeter and particularly enjoyed his weekly small group bible study. David also had a love of music, photography and gardening.
David is survived by his wife, Cheryle; son Keith Gaines and wife Lisa; son Jonathan Gaines; granddaughter Kayli McWhorter; sister Bonnie Rowe and husband Johnny; Brother-in-law Allan Custer; and many beloved nieces and nephews.
A memorial service will be held on August 5th, in League City at the Crowder Funeral Home at 11:00 AM. Receiving will begin at 10:30.
In lieu of flowers, the family requests that memorial donations be made out to Clear Creek Community Church, Memo: "Missions – David Gaines"