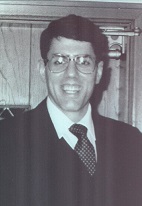 David James Alexander passed from this life into God's loving embrace on December 14, 2014. David was born in New Orleans, LA on June 26, 1955, the beloved son of Patricia Hoffman Alexander and Albert Edward Alexander, deceased. David was a graduate of Holy Cross High School, New Orleans, LA, Louisiana State University earning a Bachelor of Science in Biochemistry and Juris Doctorate from Loyola School of Law. David served in the United States Air Force as a Judge Advocate General in Enid, OK and later trained as a Weapons Controller, fulfilling foreign assignments with AWACS. David began his Patent Law career in Oklahoma City as a Patent Agent with Dunlap, Codding, Peterson and Lee, followed by Patent Attorney roles with Halliburton Oil, Duncan, OK; Kimberly Clark, Atlanta, GA; Atlantic Richfield, Plano, TX; Exxon Corporation, Houston, TX and finally as Chief Patent Counsel with Total Petrochemicals USA of Houston, TX.
David is survived by his wife, Connie Denise Hicks and their three children, James Andrew, Olivia Claire, and William Edward Alexander, of Houston, TX. Leaving behind also to honor his memory are his mother, brothers, Dr. Albert Edward Alexander II and his wife, Dr. Elba Batista Alexander and their children, Albert Edward III and Luis Batista Alexander, of Baton Rouge, LA and Richard Hoffman Alexander, his wife Tinsley and their daughter, Kaylon Kristina, of Richmond, TX and sister, Patricia Alexander Jeanfreau of Metairie, LA and her children, Matthew James, Rachael Anne, Juliette Marie and Kathryn Frances Jeanfreau as well as many loving family members and friends.
The family would like to thank Methodist Hospital Bone Marrow Transplant Team for their outstanding care and devotion.
Private Memorial Services will be held in Houston, TX and Baton Rouge, LA with internment to follow at US National Cemetery.
"God is our refuge and strength, an ever-present help in trouble. Therefore we will not fear, though the earth give way and the mountains fall into the heart of the sea, though its waters rage and swell and the mountains quake at the tempest of the same. Be still then, and know that I am God; I will be exalted among the nations, I will be exalted in the earth. The Lord of hosts is with us; the God of Jacob is our refuge." Psalm 46