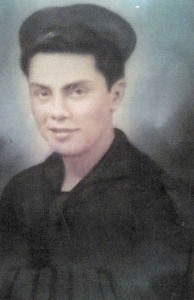 David G. Patlan was born on February 22, 1928 in Galveston, TX and passed from this life on November 29, 2014.  He was the first born son of Gabriel and Maria Vasquez Patlan.
As a young man, he found employment with Lykes Bros. Steamship Co. and later earned his engineering licenses with the Merchant Marine Engineering school in Baltimore, MD.  He sailed many years in the capacity of both first and chief engineer.  He eventually retired in 1993.  During many of his voyages he was able to see much of the world which served as an education in itself.  Like so many other merchant mariners, he endured rough seas, hard times, and months away from home.  He also met and married his wife Hannah Elizabeth Denny (Joan) whom he brought from Liverpool, England back to the States.
He is preceded in death by his parents, Gabriel and Maria Patlan; four brothers, P.G. (Rollie), Daniel, Ruben and Tom; and sister Martha P. Suarez.
He is survived by his wife, Hannah, one daughter, Maureen Zermatten and husband James, and their daughter, Tiffany Hartdegen, and great grandson, Caden of the Dallas Metroplex area; 2 sons, Jerome and James who has 2 daughters Stacy Patlan and great grandson Landen James, and daughter Jaime Kincaid and great grandson Eli;  one brother, John and wife Ofelia of Houston; four sisters, Lydia Garcia of Portage, Michigan; Mary Ann Patlan of Texas City, TX; Irene Penland and husband Murry also of Texas City; and Trini Rea of Lamont, California.   He also leaves behind many nieces, nephews, cousins and numerous other relatives and a host of friends.
Funeral services will be officiated by Michael Patlan at Crowder Funeral Home in Webster, TX located at 111 East Medical Center Blvd on Friday, 5 December at 2 p.m.