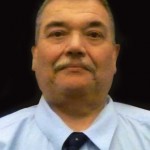 David Franklin Magliolo, 59, of Dickinson,Texas, passed away on October 24, 2014. He was born on June 10, 1955 in Texas City, Texas, and is preceded in death by his mother, Dora Salvato Magliolo, and his father, Adolph Paul Magliolo, Sr. He is survived by siblings Paul Magliolo and wife Kathy of Montgomery, Theresa Richey and husband Tom of Seguin, and Lisa Richardson of Dickinson; cousin Nena Neal and husband Jack of Dickinson and their children Christi, Liz, and Jay, their spouses and children; also by niece Margaret Rauch and husband Brian of Mesa, AZ and nephews Tom Richey, Jr. and wife Jodi of Norfolk, NE and Kenneth Andrew Richardson of Dallas. Survivors also include special friends Kenny and Renee Skinner, Robert and Helen Burkhart, and Tim North.
David graduated from Dickinson High School, attended the University of Houston, and completed pharmacy school at Texas Southern University. A registered pharmacist since 1983, David practiced pharmacy first at Medicine Man Pharmacies in Galveston County and later Eckerd's and CVS Pharmacies in Webster, Houston, and most recently, Friendswood. He loved being a pharmacist and considered pharmacist Chuck Ross and his Friendswood coworkers and customers to be his family. A lifelong member of Shrine of the True Cross, he was active in the ACTS Community and the Knights of Columbus and was a longtime member of the Dickinson Lions Club.
Visitation for family and friends will be from 5:00 p.m. to 7:00 p.m. on Thursday, October 30, 2014, at Crowder Funeral Home, Dickinson, Texas with a rosary beginning at 7:00 p.m. A funeral Mass will be held at 10:30 a.m. on Friday, October 31, 2014, at Shrine of the True Cross Catholic Church in Dickinson, followed by interment at Mt. Olivet Catholic Cemetery.
In lieu of flowers, donation may be made in David's memory to the True Cross ACTS Community or the Dickinson Festival of Lights.
Honored to serve as pallbearers will be Tom Richey, Jr., Kenneth Andrew Richardson, A. J. Magliolo, Jr., Tim North, Ken Skinner and Robert Burkhart.