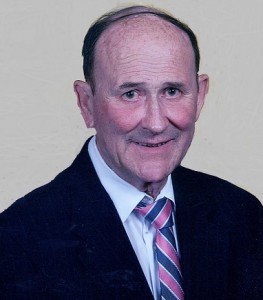 David Edward Conerly, son of Davis Edward and Wilhelmina (Garcia) Conerly was born April 6, 1938 in Clarksville, Texas and passed away peacefully at his home in Houston, Texas on May 7, 2016, at the age of 78.
David served in the Vietnam War from 1968 to 1970 and was stationed in several locations in Southeast Asia.  After the war, David was hired by Ford Aero Space and was stationed in the Seychelles Islands from 1971 to 1978.   During that time, David married his lovely wife, Hilda.  They have been together for forty four wonderful years.
In 1978, he was transferred to Thule Greenland and was there for 15 months.  At the end of that assignment he moved to Santa Maria, California, where he was stationed at Vandenberg Air Force Base for 3 years.  He was then transferred to Houston, Texas to join the team on the first Shuttle Mission to Space.  David worked for numerous contractors until 1996 when he was diagnosed with Multiple Sclerosis and had to retire.    Houston has been his home ever since.
David was an active member of American Legion post 490.  He was also a past Master from his Masonic Lodge in South East Houston.  He was a Shriner and active member of the Paralyzed Veterans of Houston.
David was very proud of all his accomplishments and to have served his country.
David was preceded in death by his parents and one grandson, Ethan Conerly.
He is survived by his wife, Hilda Conerly, his daughter, Cynthia Conerly Whitehead (Keith Webb) of Searcy, Arkansas, son, David Conerly of Cotton Plant, Arkansas and son, Jerry Conerly (Susan) of Frisco, Texas.  He is also survived by 2 sisters, Elizabeth Williams of Conroe, TX and Maxine Nelson of Dallas, TX, 7 grandchildren, Adam Gehring, Andrew Gehring, Jessica Conerly, Dakota Conerly, Mason Conerly, Chandler Conerly, and Noah Conerly, 3 great grandchildren, Addison Gehring, Scarlett Gehring and Oliver Gehring, his mother in law, Judy Hans, other relatives and friends.   He will be greatly missed by all.
A visitation will be held from 6 – 8 pm, Thursday, May 12, 2016 at the Crowder Funeral Home in Pearland, located at 2422 Broadway.  A funeral service will be held at 10am Friday, May 13, 2016 at the Clear Lake United Methodist Church, 16335 El Camino Real in Houston.  A Masonic graveside with Military Honors will follow at the Mount Olivet Cemetery in Dickinson.  Memorials may be made to the National Multiple Sclerosis Society.