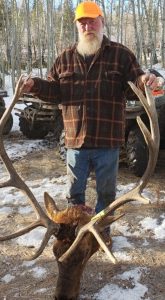 Daryl Rae Sellers, 63, of Hitchcock, Texas passed away on February 26, 2019. Daryl was born on May 11, 1955 to Kirby and Catherine Sellers.
He was a resident of Galveston County for over 45 years, working for J.W. Kelso for over 30 years. Daryl was a passionate outdoorsman, avid hunter, and a devoted family man; his hobbies include riding his Harley, reloading and gun smithing, front porch talking and sneaking pie to his granddaughters when Mimi wasn't looking.
Daryl is survived by his loving wife of 40 years, MiMi Sellers, his sons: Cole and wife Ceyselly Sellers and Hayden Sellers, and his daughter Leah and husband Chris McSheehy ; his four granddaughters:  Daisy Sellers, Katy Sellers, Oaklee  McSheehy and Anabelle McSheehy, two brothers: Terry and wife Leta Sellers and Robert Sellers and his sister Priscilla Sellers, and numerous nieces and nephews.
A celebration of life will be held at Crowder Funeral Home in La Marque, Texas on Friday March 1, 2019. Visitation will begin at 2:00pm followed by a service at 3:00pm with Joseph Buse officiating.  Josh Strommen and Robert Strommen will be doing the Eulogies.
In lieu of flowers, buy yourself a lottery ticket and thank Daryl for your winnings!