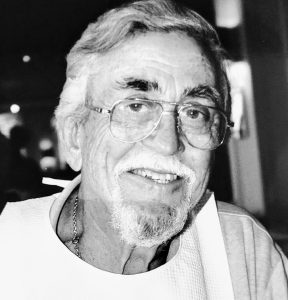 Darrell Thomas Gray, 86, a resident of Pearland for over 56 years,   passed away on April 23, 2022 in Houston, TX. Darrell was born September 25, 1935 in Odessa, TX. He served his country in the United States Air Force at the end of the Korean War. He was the aircraft radio operator with the original Hurricane hunters.
He was a member of First United Methodist Church of Pearland. A Master Mason of the C.F. Spencer Masonic Lodge #1384 AF&AM of Pearland, as well as a 32nd Degree Shriner of the Arabia Shrine Temple of Houston.  He also was a member of the Lions Club for many years. Darrell worked in Heavy Equipment sales for 20 years.  He later operated Southwest Land Title in Pearland.  Hobbies included Horses, Golf, Hunting / Fishing, Sailing and a lifelong H.A.M. Radio operator (AA5QR / VP9DT)
He married Wynona Benson and began their family while stationed in Bermuda during his assignment in the Air Force. There, Sharon, their first child was born.
Darrell leaves behind his beloved wife of 65 years, Wynona Gray; daughters: Sharon Brown, husband Kenneth, Diana Engle, husband Dan, and Teresa Hasty, husband Benjamin; grandchildren: Erica Bederka, husband Joseph, Chase Gilbert, wife Beth, Shannon Boll, husband Jamie, Tiffany Brown, Danielle Schultz, husband Eric, Michael Engle, Steven Engle, Amanda Hart, Emily Dunlap, husband Ray, Damon Hasty and Cori Hasty; fifteen great grandchildren and one great great grandchild.
A visitation will be held from 5:30 p.m. to 7:00 p.m. with a service at 7:00 p.m. on Wednesday, April 27, 2022 in the chapel of Crowder Funeral Home in Pearland, TX. Burial will be Thursday, April 28, 2022 at 10:45 a.m. at Houston National Cemetery (VA Cemetery) in Houston.
For those who can't att4nd, please click link below at time of service