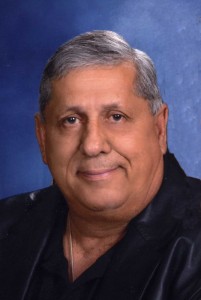 Darrel Preston Barbo, 67, of League City, passed away July 9, 2015 after a lengthy illness in Webster, Texas. Darrel was born July 16, 1947 to Benard and Georgia Anna Barbo in Eunice, LA. Darrel received his bachelor's degree from Texas A & I University, Kingsville, Texas. He was a coach and teacher for the Dickinson and Santa Fe School Districts for many years and was assistant coach for Teddy Gray for the 1977 State Champion Dickinson Gators. Darrel was inducted to the Dickinson Athletic Hall of Honor at Dickinson High School in 2006. He worked for Amoco and retired as a Field Supervisor for BP Pipeline. Darrel was an avid competition sport shooter and won many trophies throughout the country for both pistol and shotgun and a loyal member of Masonic Lodge #1324. He was preceded in death by his parents.
Darrel is survived by his loving wife Kathy Barbo; sister Sherry Cochran and husband David; brother Robert S. Vaughn and wife Mary; sister-in-law Karen Shannahan; brother-in-law Kenneth Marchal and wife Lois; niece Holly Garrett and daughter Eva; and nephew Chris Shannahan.
A visitation will be held Monday, July 13, 2015 from 5:00 to 8:00 pm with a vigil service at 7:00 pm Crowder Funeral Home Chapel, Dickinson, Texas. The funeral Mass will be celebrated Tuesday, July 14, 2015 at 10:00 am, St. Mary's Catholic Church, League City, Texas with interment following at Mt. Olivet Catholic Cemetery, Dickinson, Texas.
Honored to serve as pallbearers are Dave Eickhoff, Johnny Lee, Frank DiBella, Chris Shannahan, Alan Seamend, and Steve Jamail. Honorary pallbearers will be Richard Kirkland, Tom Watkins, Steve Tackett, Jerry Hark reader, Don Betterton, Curtis Fillman, Marty Tindall and Mearl Jones.
In lieu of flowers donation may be made to the Shriners Hospital for Children at Office of Development
Shriners Hospitals for Children
2900 Rocky Point Dr.
Tampa, FL 33607