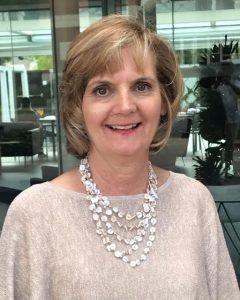 In Loving Memory
Darlene Klecka Whelton
August 25, 1958 – October 29,2023
It is with heavy hearts that we announce the passing of Darlene, a loving, caring, and kind soul who dedicated her life to her church and family. Darlene departed from this world on October 29th with her family by her side. She is leaving behind a legacy of love and devotion that will be cherished forever.
She was born on August 25, 1958 in Texas City to Johnnie R. Klecka Sr. and Gloria Battistoni Klecka. Darlene was the heart and soul of her expansive family. She was surrounded by the warmth of an Italian and Czech heritage that she held close to her heart. She loved nothing more than gathering with her relatives, sharing stories, and celebrating life's moments. Her large family was a source of immense joy for her, and she treasured every opportunity to be in their company, especially with her first grandson, Brooks. She was a member of the Shrine of the True Cross Catholic Church, the Women's Club, and the Catholic Daughters of the America Court #1855, where she held the title of Regent. She worked for many years as a home health therapist and enjoyed the numerous people she helped.
Darlene is preceded in death by her father Johnnie Klecka Sr.; father in laws Robert Whelton and Gerald Naquin; sister-in-law, Cindy Ryman; nephews Chad Ryman and Kyle Milliman.
She is survived by her husband of 38 years, Robert Whelton, son Bryce and girlfriend Kara, daughter Hannah, son Grant, grandson Brooks; mother, Gloria Battistoni Klecka; brother Johnnie Klecka, Jr. and wife Mary Carmen; mother-in-law Mary Naquin; sister-in-law Traci King and husband John; brother-in-law Jeff Ryman; mother-in-law Judy Whelton, brother-in-law Micheal Agorastos and wife Kay, sister-in-law Stephanie Dhonau and husband Craig, sister-in-law Susan Milliman and Amy Skehan. Darlene has many nieces and nephews including Lauren and husband Barret, Trey, Jeff Jr., Tai, Audrey, Ashton, Jill, Meg, Ned, Skyla, Chance, London, Bailey, and Dylan.
There will be a visitation from 5:30 p.m. to 7:30 p.m. on Friday, November 3, 2023 at Shrine of the True Cross Catholic Church, 300 FM 517 Rd East, Dickinson, TX 77539. Funeral Mass will be held 10:00 a.m. on Saturday, November 4, 2023 at Shrine of the True Cross Catholic Church, with burial to follow at Mt. Olivet Catholic Cemetery in Dickinson, TX.
Pallbearers will be Bryce and Grant Whelton, Johnnie Klecka III (Trey), Patrick Klecka, Barret Manning, Ty Bruysschaard. Honorary pallbearer is Brooks Whelton.
In lieu of flowers please donate to Shrine of the True Cross Catholic Church or School.