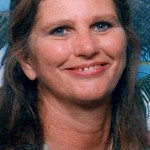 Darlene Ann Jackson was born December 1, 1955 in Houston, TX to Milton and Bernice Barker. She passed away on June 3, 2014 in Webster, TX where she lived for 10 years and attended Praise Chapel Church.
She is survived by her husband David Jackson; children: David Monroe Jackson Jr., Tammy Hanson, Trisha Jackson; grandchildren: Nikki Caballero, Jonathan Gardner, Justin Roy, Brendon Young, Gage Young, Candace Scruggs; great grandchildren; Tristen Kiraly and Kinley Caballero; sisters: Norma Jenkins and Jewel Gore and husband Milo. Also, numerous nieces and nephews.
Funeral service will be on Friday, June 6, 2014 at 5pm with a visitation to start at 3pm at Crowder Funeral Home in Pearland. Graveside service will be Saturday, June 7, 2014 at 2pm in Burkeville, TX at Toledo Cemetery.