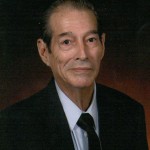 Daniel Trevino Guajardo
Danny 81, resident of Texas City, passed away peacefully from the arms of his loving wife of 58 years and into the arms of our Lord and Savior Jesus Christ on July 6, 2014, at his residence, surrounded by his loving family.
Danny, born in Presidio, Texas on November 28, 1932, was retired and before he became ill enjoyed going to church, playing golf, (some said he could have made it to the pro league), watching sports (rooted for the Texans and the Astros), loved playing his guitar and listening to music. Danny had a strong heart and loved his family.
He is preceded in death by grandson, Nito Rene Guajardo, father Jesus Guajardo, mother Godeleva Luna (Thomas), brothers Nafteli Guajardo, Margarito Luna, sister Christina "Kika" Cortez. Left behind to cherish his many memories, his wife Lois Naomi Guajardo, twin brother Ezekiel Guajardo, son Rene Nito Guajardo (Marcie) of Leaky, Tx; daughters Della Hernandez (Mike) of Texas City, Deanna Westmoreland of Texas City, Christina Nickerson (Terry, Sr.) of Texas City, 23 grand-children, 24 great grandchildren, numerous nieces and nephews.
Special thanks go out to Hallmark Hospice, Leigh Zavora, Joseph Egede, Cheryl Wilson, Tim Walker, Candace Mitchell, Amber Lenting and Debbie Thomas. A very special thanks to his loving grand-daughter Crystal Marshall, who provided her nursing skills and stayed by his side to help him transition into Heaven.
A service to be held at 10:00am on Saturday, July 12, 2014 at Northside Baptist Church 2801 North Logan, Texas City, Texas 77590.