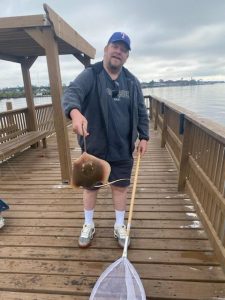 Daniel Scott Allen, 55, passed away Thursday, March 10, 2022 while at home in Seabrook, Tx.
Daniel was born on December 5, 1966, in Fort Worth, Texas, to Earnest R, Allen and Viola Sisk Hawkins.  Daniel graduated from Del Rio High School, in Del Rio, Texas in 1985.  He later enlisted in the Air Force and later he opened his own pest control company.
He is preceded in death by his father Earnest R. Allen, Sr. of Fort Worth, Tx; his stepfather, James Hawkins and survived by his wife, Rebecca Parish of the home, his mother Agnes Viola Hawkins of Ingram, TX, brother Earnest R. Allen, Jr. of Ingram, Tx; brother Eric L. Allen of Ingram, Tx, sister Jennifer M. Boothby and Brother in Law Timothy Boothby of Kerrville, Tx., Daughter Andrea N. Allen of Tennessee, daughter Jessica M. Featherston and Son in Law, Triston Featherston of Kerrville, Tx., granddaughter, Sherry Featherston, granddaughter Rosie Featherston and grandson, Jaxson Featherston and one grandchild on the way that he named "nugget".
Daniel loved to be anywhere he could fish.  Fishing was his "happy place" that always brought a smile out of him.  He always spoke of his fishing trips with his brother.  The tales he had to share!  He enjoyed walking trails around Seabrook or walking along the beach.  Daniel loved to travel and find interesting places to visit.  You will not find a more loyal Cowboys fan than him.  He always watched their games and win or lose that was still his team.
He loved to make people laugh.  He always had a joke for you even his dad jokes.  He was always pulling pranks on me at home.  Daniel, loved and protected his family with all he had.  He was so happy to get to spend time with his grandchildren and youngest daughter the weekend before.  He loved hearing them call him "PawPaw".  Daniel will be remembered most for his generous, loving spirit and bigger than life smile.
A small memorial will be held for him in Kerrville, Tx later this week for family and friends.
I'll meet you on the beach…