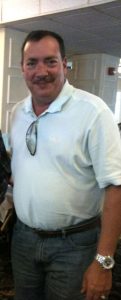 Daniel Ari Glenn, 60, passed away the evening of July 28th, 2022, in Seabrook Texas of kidney cancer. He was born on July 6th, 1962, in Berlin Germany to Curtis and Gythe Glenn. The family moved to Great Falls, Virginia when he was a young child. The family then moved to Sweden, Demark, and Taiwan. They returned to the US where he spent his school-age years in McLean, Virginia, and attended Langley Highschool. He earned a BA and a Master of Public Administration at the College of Charleston University in South Carolina. He was a proud member of the Army's first Cavalry Division for 6 years. Daniel worked for the Texas Workforce Commission Vocational Rehabilitation Services as a Vocational Rehabilitation Supervisor.
Survived by his wife Leslie; daughter, Madison, and stepdaughter Hanna her husband CJ, and his first granddaughter, Dani Elizabeth. His siblings Susan Robeck, and her husband Stephen, Phil Glenn and his wife Charlene, Loraine Goeller and her husband Jimmy as well as their families. His in-laws, Warren and Patricia Bacala, brothers-in-law; Scott, Jimmy, Chris, and Chris's wife Deirdre, as well as many beloved nephews and friends. Also, his son Jonny from his previous marriage.
He was an enthusiastic American who loved to support locals as well as American-made products. He loved art, nature, animals, and the beach. He also enjoyed doing impressions of his favorite celebrities. Danny's celebration of life will be held on August 20th at 4 pm at the Seabrook Community House, 1210 Anders Ave, Seabrook Texas 77586. Instead of flowers, the family would appreciate gift card donations.