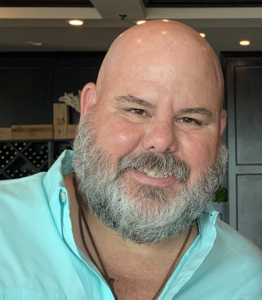 Dale James Hrabovsky passed away on June 16, 2023, at the age of 50, surrounded by his loving family. Born on September 26, 1972, in Yoakum, Texas, Dale was the son of Willie Hrabovsky and Joyce Hrabovsky-Muller.
In 2000, Dale had a fortuitous encounter with Traci's stepfather, Brad, who invited him on a fishing trip. Although the fishing plans were disrupted by rain, this unexpected turn of events led Dale to Brad's house, where it was revealed that Dale was a bachelor. Little did he know that this encounter would change the course of his life forever. Dale and Traci were united in marriage on September 7, 2002, in Yoakum, Texas.
Dale's greatest joy in life was spending quality time with his daughters Taylor, adopted by Dale on May 16, 2006, and Riley, born on June 14, 2004. Together, they created countless memories camping under the stars, casting fishing lines and many vacations. Dale's unwavering support extended beyond family outings, as he took an active role in coaching his daughters' softball teams and FFA projects. He inspired and encouraged them to pursue their passions.
As a father, Dale instilled in his daughters the values of perseverance, sportsmanship, and the importance of embracing nature. Their shared experiences and the lessons he imparted will forever be treasured by his girls, who were his pride and joy.
Dale's professional journey began after completing college at Texas A&M, when he decided to devote his life to teaching. His passion for education and unwavering dedication to his students led to numerous accolades from local, state, and national organizations. Dale's outstanding contributions to the field were acknowledged when he received the CATS Academy Teacher of the Year award, followed by the Angleton ISD Teacher of the Year title.
His commitment to fostering a love for the outdoors and the environment was honored with the Teacher Outdoor Education Association Fortner Award. Recognizing the impact of his innovative initiatives, the Texas Outdoor Education Association awarded Dale the Outdoor Program of the Year Award. Notably, he was also honored as the Farm Bureau Texas Teacher of the Year for his exceptional efforts in educating students about agriculture and rural life.
In addition to his professional accomplishments, Dale was a loving son, husband, coach and friend. His warm heart and kind spirit touched the lives of many, leaving an indelible impact on all who had the pleasure of knowing him. Dale was always willing to work on a project for Traci or rush over to a friend's house to lend a  helping hand.  His smile was infectious to those around him.
Dale was preceded in death by his father Willie Hrabovsky, stepfather Norvin Mueller, mother-in-law Cecile Bylund, and sister-in-law Sharon Hrabovsky. He leaves behind a legacy of love and inspiration that will be cherished by his wife Traci, daughter Taylor Williams and her husband Johnelle VI and their son Johnelle VII, and daughter Riley Hrabovsky. His mother Joyce Hrabovsky-Muller, his sister, Judy Moore and her husband C.L., his brothers James Hrabovsky and his wife LeAnn, Roger Hrabovsky and his wife Christine, David Hrabovsky and a host of nieces, nephews, extended family members, and friends. Their shared experiences and love will forever be treasured. Dale's presence in their lives brought laughter, love, and cherished memories that will endure through the years.
Dale's legacy continues with the arrival of his grandson, Johnelle Williams VII, born December 29, 2021, who will hear stories of his loving Do-Da and carry his spirit forward into the future.
A visitation is planned for Sunday, June 25th, 2023 from 10:00 am to 12:00 pm at Crowder Funeral Home in Dickinson, Texas followed by a memorial service to celebrate Dale's life.  In lieu of flowers, the family kindly requests that donations be made to Brazoria-Galveston County Farm Bureau mailed to 2620 E. Mulberry, Angleton, TX  77515. Check is for "Dale Hrabovsky Memorial for Educational Programs". There will be a collection box for cash donations at the service.
Dale's unwavering dedication to education and his unwavering commitment to his family and community will forever be remembered. He will be deeply missed by all who had the privilege of sharing in his journey.