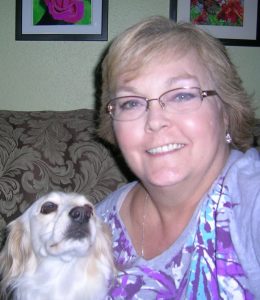 Cynthia Jean Fisher, 59, a 16-year resident of Dickinson, TX, passed away July 20, 2017, in Webster, TX. Cindy was born December 29, 1957, to Bill and Joyce McClelland in Houston, Texas. She was raised in Pearland, Texas and graduated from Pearland High School. Her most rewarding career was her time as a veterinary technician. Cindy was a great lover of animals, especially dogs. In addition, she was an avid Houston Texans fan, enjoyed fishing, gardening, trips to the beach, caring for her pets, and spending time with her grandchildren. Cindy was preceded in death by her father.
Cindy is survived by her mother; loving husband Mark Fisher; daughters Jeana Rich and husband Jason Andrus and Katy Rich and partner Brian Duffy; brother Tom McClelland and wife Julia; and grandchildren Jacob, Cory, and Cameron.
A Celebration of Life Service will be held 12:00 pm, Saturday, July 29, 2017, at Crowder Funeral Home Chapel, Dickinson, Texas.