Crozier "Kelly" Keller Sewell III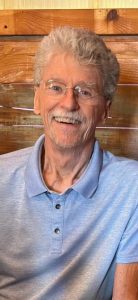 Crozier "Kelly" Keller Sewell III, 70, a resident of Pearland, TX for almost 30 years, passed away February 5, 2023, in Webster, TX. Kelly was born May 27, 1952 in East Saint Louis, IL. He attended New Hope Church in Friendswood and was a proud member and co-founder of Mid-Life Cycles, a group of friends who shared a love of riding motorcycles and who embody their motto, "Live to ride, ride to eat".  He had an extensive and impressive career in engineering, and most recently has worked for Aerolift Machine in Houston for the past 6 years.  
He is preceded in death by his son, Crozier Keller Sewell IV and his parents, Crozier Keller Sewell II, and Mary Jane Smith.
Kelly leaves behind his adoring wife of 36 years, Melissa Sewell; daughters: Kathryn D. English, husband David, Heather Groover, husband Michael, Mary Purvis, husband Jeremy, and Katie Sewell; grandchildren: Adam Fuller, Bryce Fuller, Emma English Cantu, husband Joel, Audrey English, Hannah Sewell, Jordyn Groover, McKane Groover, Anabelle Rodriguez, Rebecca Rodriguez, Olivia Rodriguez, A.J. Rodriguez, Kendra Purvis, Isaac Purvis, Noah Carrillo, Molly Carrillo and Jase Carrillo; sisters: Diana Banks and Barbara Frazier; brother, Patrick Sewell; and numerous other loving family members, friends, and coworkers. 
There will be a visitation Friday, February 10, 2023 at 4:30 p.m. with a memorial service to begin at 5:30 p.m. in the chapel of Crowder Funeral Home in Pearland, with his sister, Rev. Diana Banks officiating. 
In lieu of flowers, please send donations to Texas Heart Strings, https://www.texasheartstrings.org/donate