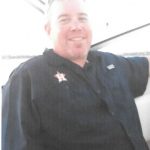 Cory Allen Sears passed away on Tuesday, January 31, 2017, at his home in League City, Texas at the age of 37.  He was born in Houston, Texas.
Cory enjoyed hunting, wood working and spending time with his family. He loved to be outdoors and working on a project. Cory never met a stranger. He was always eager to help anyone in need and he always ready for a good laugh.
He was a dedicated and beloved Operator, at Arkema for the past 9 years. He was a strong leader and mentor for the team, admired and respected by all. Cory's sense of humor and one liners would always lighten stressful moments at the plant. He was a proud member of the Emergency Response Team and could always be counted on to lend a helping hand.
He is proceeded in death by his grandfather, Howard Allen, and his nephew, Jacob Simmons.
Cory is survived by his wife, Kari Sears, and his children, Casey and Klaire. His parents, Lisa and Pat Dixon; sisters, Michelle (Todd and Hadley Moseley) and Emilie Dixon (Mike and Audrey Mims); step-sisters Monique Brandl and Kellee Almeida and families; Grandmothers Mary Allen and Lola Foglesong; Aunt Deborah Allen; mother and father-in law, Joan and Hoyt Simmons; brother-in-law Ken Simmons and children, Madelyn, Jared, Jude and Mia; and numerous other aunts, uncles and cousins.
The service will be held on Friday, February 3, 2017 at Crowder Funeral Home (Webster Location). The visitation will be from 12-2pm, followed by a memorial service from 2-3pm. The address is 111 E. Medical Center Blvd, Webster, TX, 77598.
In lieu of flowers, donations may be made to a College Fund for the children at AMOCO Federal Credit Union PO BOX 889 Texas City, TX 77592 payable to Kari J Sears   or at