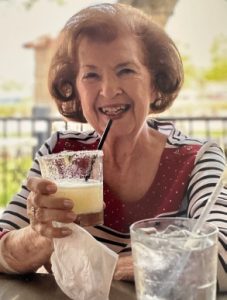 Cornelia McDermit May, 98, died October 15, 2023 at The Crossings in League City,
TX. Cornelia was born in Tamcliff, WV and was the daughter of Martha Sharpe
McDermit and George Cornelius McDermit, both of Saint Albans, West Virginia.
Cornelia graduated from St. Albans High School and then attended Ohio Wesleyan
University where she pledged Gamma Phi Beta sorority.
Cornelia married Haven Lawrence May in 1947. They were married for 54 years and
began their married life in Lexington, Kentucky. During Haven's career with Union
Carbide, they lived in Chicago, Montreal, Niagara Falls, La Marque, TX, Victoria, TX,
Ponce, Puerto Rico and Houston, TX. They later retired in Saint Albans.
Cornelia was a member of First Presbyterian Church, the Saint Albans Woman's Club
and Garden Club. She enjoyed playing bridge, reading and sewing. She made
wonderful friends everywhere she lived.
In 2015, Cornelia moved to the Houston area to be close to her children. She lived
very happily at The Crossings in League City for eight years. She brought joy to her
family and friends.
Cornelia is survived by her three children, Cherry Nims and husband, Don of Nassau
Bay, TX; Lynn House of Lexington, KY and Jeff May and wife, Beth, of Seabrook, TX.
She is also survived by six grandchildren, Delee House, Katie Mendenhall, Todd Nims,
Zach Nims, Kevin May and Ashley May; and four great-grandchildren; Aiden House,
Ayla Nims, Ender Nims and Arbor Mendenhall.