Cornelia Jean Rayner Deauquier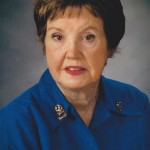 Cornelia Jean Rayner Deauquier, 84, passed away on Wednesday, March 19, 2014. She was born in Galveston, Texas on March 9, 1930 to Frederick and Beulah Rayner. Jeannie moved to Hitchcock in 1956 and was a member of the Hitchcock United Methodist Church for over 50 years. She volunteered at Mainland Medical Center every week for 10 years, and enjoyed the many friendships that it blessed her with.
She was predeceased by her beloved husband, Lloyd of, 54 years, her mother and father, her two sisters; Beulah Kopecky and Bobbie Stephens, and her brother; Frederick H. Rayner, Jr.. Jeannie is survived by her two sons; Lloyd II and his wife Lisa of Humble, and Robert and his wife Denise of Friendswood , five grandchildren; Lloyd III, Robbie, Kaci, Kellye and Robert II, nine great-grandchildren, her niece; Ena Hughes, and her nephew; Denny Stephens III of Hitchcock. She also leaves behind numerous other nieces and nephews, and many friends.
Visitation for Mrs. Deauquier will be held on Saturday, March 22, 2014 from 5:00pm to 7:00pm at the James Crowder Funeral Home in La Marque. A funeral service will be held in the funeral home chapel on Monday, March 24, 2014 at 1:00pm, with Rev. Danny Barrett officiating.