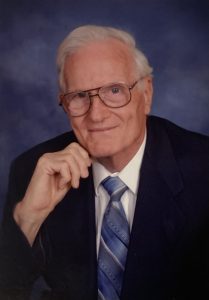 Claude "Freeman" Douglas, 86, of Houston, peacefully passed away on October 26th, 2023, after receiving the Sacrament of Last Rites.
Freeman was born on July 18, 1937, to Claude Franklin Douglas and Elsie Freeman Douglas in Memphis, TN. After graduating from Whitehaven High School, Class of '55, he married his high  school sweetheart, Charlene Frayser, in 1956. He pursued and received his degree in Electrical  Engineering from The University of Tennessee, Knoxville, in June of 1959.
After college, Freeman worked for many years in the aerospace industry for Arnold Engineering Development Center in Tennessee and Alabama. He then went into sales of electronic test  equipment in New Orleans before joining Brown & Root Northrop at NASA in Houston in 1968.  He left NASA in the early 70s to pursue his dream of opening his own electronics repair  business. Freeman owned and operated TV Teck, serving the Houston Bay Area for over 30  years until he sold the business and retired in 2005.
Sadly, in 1985, Freeman's wife, Charlene, passed away. Freeman met Joan Medulan Daniels in  1990, and they married in October of 1992. Together, they enjoyed several years of traveling  through all of the lower 48 US states, pulling a travel trailer and camping in the National Parks. In between their travels, they enjoyed country dance lessons and were active campers in the Rovin' Texans RV Club from 2006-2019.
Freeman was predeceased by his first wife, Charlene Douglas, and his sister, Mary Alice  Cravens. He is survived by his wife, Joan; his children, Michael Douglas, Cheryl Foust and Patricia Douglas; stepson, Jonathan Daniels; grandchildren, Aimee Rasmussen, Dodge Grootemaat, Danielle Smith, Michelle Douglas, and Justin Douglas; step-grandchildren, Collin Daniels and Sara Daniels; and 11 great-grandchildren.
Services will be held at St. Bernadette Catholic Church located at 15500 El Camino Real Houston, on Friday, November 17th at 10:30 am.
In lieu of flowers, please consider a donation to any of the following organizations:
St. Bernedette Catholic Church, Archdiocese of Galveston/Houston  www.stbchurch.org/giving-1
St. Joseph's Indian School: www.stjo.org
Christian Appalachian Project: www.christianapp.org
Fr. Scott Donahue, Mercy Home for Boys and Girls: https://donate.mercyhome.org