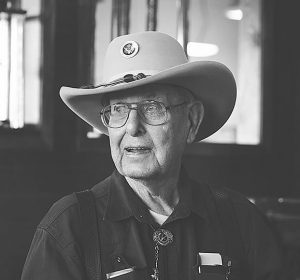 Clarence Sprague, of Bacliff, Texas passed away on July 13th, 2021 at his home surrounded by loved ones. He was born on March 14, 1925 in Wewoka, Oklahoma to loving parents Delbert (Joe) and Nova Sprague before moving to East Texas where Joe worked as a blacksmith and in Kilgore oilfields. They also farmed and ran a country store at their home in Laneville, Texas.
At the age of 18 Clarence enlisted in the army after attending welding school. Sgt Sprague served as 1st Assistant to General George S. Patton and survived both the historic 1944 invasion of Normandy and the Battle of the Bulge later that same year. He was awarded a marksmanship medal, a campaign medal with three bronze stars, the good conduct medal, and the World War II victory medal.
After his tenure in the army, Clarence continued his work as a welder. His career in pipeline welding allowed him to travel the US and the world, visiting all but a handful of countries. He retired at 78 to spend time doing the things he loved like fishing, hunting, reading western novels, protecting his pecan trees and spending time with his family and dogs.
Clarence was preceded in death by his parents and siblings Sanford, Jewel, William, Austin, twins Loretta and Juanita, twin brother Lawrence, twins Donald and Dolly Jo, and first wife Billie Jean Salter Sprague.
He is survived by his loving wife Juany Sprague of 41 years, their children Mark and Nova and her husband Jarrett and son Bauer. Also, the eldest son Micheal and wife Solange Collileux of France, Billie Jean's son Joel and wife Barbara, and their children Jessica, Leslie, and Sarah, and Clarence's eldest twin daughters Jackie and Jayne, as well as several nieces, nephews, grandchildren and great-grandchildren.
In lieu of flowers, donations may be made in his honor to SERVE, an organization that provides services to veterans in the gulf coast area.
A visitation will be held on Saturday July 24, 2021 at 3:00 PM at Crowder Funeral Home in League City followed by a memorial service at 4:00 PM. A military honors ceremony will take place.