Clara Frances Hoefle Nussenblatt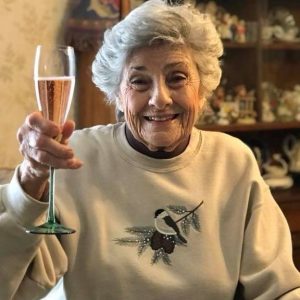 Clara Frances Hoefle Nussenblatt, 96, long time resident of Dallas, Texas passed away peacefully on June 15, 2023 with her family by her side in Friendswood, Texas. She was born December 12,1926 in Windthorst, Texas to John Paul and Anna Josephine Hoefle. She attended Antelope High School and Texas Womens University in Denton, Texas. She moved to Dallas and began her 50-year career in banking at the Federal Reserve Bank followed by several others. Clara was a dedicated wife and mom of 3 that found time to help at their family pharmacy, in addition to volunteering at all her girls' numerous activities.   At 70, she retired and moved to West Monroe, Louisiana to be a full-time grandmother.
Clara was always beautiful, charming, and known for her great sense of style. She was loved by many who benefitted from her ability to listen, her acceptance and comforting nature. She was an avid collector of antiques, china and all things Christmas. She loved sports and was a rabid Dallas Cowboys and Mavericks fan! She was a basketball and volleyball player in high school and continued to play volleyball well into her sixties with her neighborhood pals. She was very fond of animals and loved all her pets. She loved to celebrate holidays and gatherings with family and friends. Above all she treasured her beloved grandchildren Erin and Rachel.
She is preceded in death by her loving husband of 33 years, Seymour "Nuss" Nussenblatt, her daughter Cynthia Barr, son-in-law Mike Barr, siblings and in-laws Katherine and Foch Garnett, Mary and Eugene Garnett, Martin and Juliet Hoefle, John and Ann Hoefle, Joe and Sophie Nussenblatt, Sam and Felice Nussenblatt.
Clara is survived by her daughter, Judith Nussenblatt, son-in-law Michael Downing, daughter Tracey Barr, son-in law Randy Barr, grandchildren Rachel Claire Barr, Erin Seymour Barr, "a fine young man" William Gaines, her little rescue dog, Juliette and numerous nieces, nephews, cousins, friends, and neighbors who will miss her immensely. The family would like to thank her many caregivers for their devoted love, attention, and assistance.
Memorial Service will be held Saturday, July 22, 2023, at 2:00 pm in the chapel of Crowder Funeral Home in Pearland, Texas. In lieu of flowers, donations can be made to Operation Kindness or the animal rescue of your choice.