Christopher Alexander Velasquez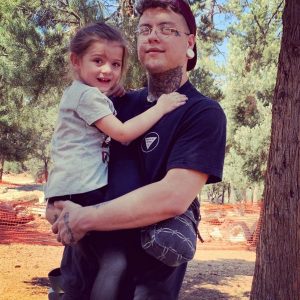 Christopher Alexander Velasquez, 25, born and raised in the Clearlake/Friendswood area of Texas, passed away on May 5, 2021 in Houston, TX. He was born on December 27, 1995 in Webster, TX and graduated from Friendswood High School class of 2014. At 18 he left and resided in Colton, Ca for a few years where he met his wife Amber. Christopher became a proud dad to his daughter Abi who was born in 2016.  He loved his daughter with every single piece of his soul, so much that it hurt. He never met a stranger because he was a loving, caring, and free soul who was outgoing and loved life and everything that life had to offer.
Christopher leaves behind his wife: Amber White; Daughter: Abigail Ruth White Velasquez; Mother and step father Rhiannon and Eugene Candal; Father: Jason Velasquez; Sisters: Mariah and Mikaela Candal; Brothers: Angel Velasquez and Avery and wife Mikayla Velasquez; Grandmother's: Shiela Cones, Janeva Mckinney, Martha Hines; Great grandmother: Gregoria Mckinney; Grandfather: Roland Velasquez; Uncles: Christopher Robertson, Jeremy and wife Whitney Robertson, Eric Velasquez, Thomas and wife Lucy Velasquez, Roland Velasquez, and Joe and wife Nayelli Barrera; Aunts: Shannon and husband Jason Sabol, Vivian Candal; Cousins: Giselle Candal, Liam Pankow, Mercedes Cruz Barrera, Ash, Jax, and Ava Robertson, Tabitha, Lola, Thomas, and Margarita Velasquez
There will be a visitation held from 4 p.m. to 8 p.m. on Friday, May 14, 2021 in the chapel of Crowder Funeral Home with a service to begin at 6 p.m.
For all those that are here today to celebrate Christopher's memories as he is laid to rest we appreciate your support and donations in helping us be able to partake together as one in saying our last goodbyes to his human form. He will always live in our hearts, minds, and memories forever.  May his soul Rest In Peace as he looks down on us with his Angel wings watching over each and every one of us every day. Until we meet again in heaven, we will keep your memories alive here on earth!
For those who can not attend, please click the link below at the time of servie.