Charlotte "Packie" Fontenot Primm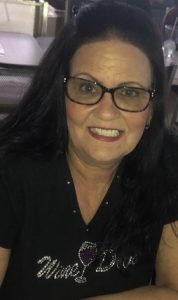 Charlotte "Packie" Fontenot Primm, 63, of San Leon passed away peacefully on Friday, November 19th. She was born on January 2nd, 1958. She has been a long-time resident of Galveston County.
Through her journey with cancer, she was able to share her experiences with others that may be battling the similar situations, and this led her much closer to the Lord. She was a very strong-minded woman that did not mind sharing her thoughts with others
She was an amazing wife, devoted mother, loving daughter, sister, grandmother, and a great friend to many.
She is preceded in death by her mother, Mary Brewer of San Leon, TX and her, Father Cedric Fontenot of LA.
She is survived by her loving husband and child hood sweetheart Rodney Primm of 7 years; daughter, Christie Geers and Fiancé Chris Sparks; son, Christopher Jones; sisters, Letitia Lay and Ginger Keith; brothers, Clifton Wallace and Thomas Brewer; grandchildren, cousins, other relatives, many friends; and her fur babies, Tinker and Harley.
Visitation will be held Monday, November 22nd, 2021 from 10:00am-Noon at Crowder Funeral Home in Dickinson, Texas.
Funeral Services will be held Monday, November 22nd , 2021 at 12pm at Crowder Funeral Home in Dickinson, Texas with interment following at San Leon Cemetery