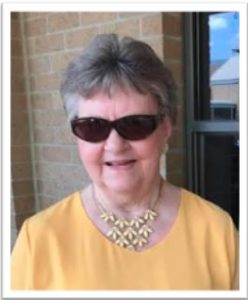 Charlotte Micocci
December 14, 1934, to January 5, 2023
Mass Service will be held on January 20, 2023, at 10:30am
with Eulogies to begin at 10:00am
at St. Bernadette's Catholic Church
15500 El Camino Real, Houston, TX 77062
Charlotte Micocci (maiden McConnell) passed away in hospice care in Houston, Texas on January 5, 2023. Born on December 14, 1934, in Athens, Ohio, to Paul McConnell and Elizabeth McGraner (McConnell Stonerock), she grew up in Circleville, Ohio as part of a large family which included six siblings and four half siblings and was very proud of her Irish heritage.
She married her late husband Angelo Micocci on September 12, 1953, and had four children: Phillip, Paul, Rosemarie, and Peter. The family eventually moved to Clear Lake in Houston, Texas, where they became members of St. Bernadette's Catholic Church. Charlotte worked in nursing administration at Clear Lake Medical Center (now HCA Houston Healthcare Clear Lake) for many years, while Angelo worked as an Engineer at NASA's Johnson Space Center.
Charlotte was best known for her incredible sewing abilities and baking cakes, cookies, and other treats for her church community. Over the years, she created and mended beautiful works such as detailed vestments for the priests, banners, and other liturgical materials for the St. Bernadette's parish, and sent handmade dress clothes to her grandchildren in their early years. She was a very devoted member of her church community, participating in Bible study groups and frequently giving of her time and talents in service by baking cakes for Helping Hands and fundraisers, and gathering items for children's school supply drives and families in need. She also enjoyed travel, visiting Italy with her late husband to learn about his family and cultural heritage, Ireland for her own, and destinations such as Israel with her church group to experience the ancient Holy sites.
Charlotte Micocci was preceded in death by her parents Paul McConnell and Elizabeth McGraner (McConnell Stonerock); husband Angelo Micocci; siblings Sally (Jack) Koverman, John (Ann) McConnell, Joe McConnell, James McConnell, and Roger McConnell; and her son Paul Micocci. She is survived by her children Phillip Micocci, Rosemarie Abbouchi and her husband Wael, Peter Micocci and his wife Rosa, and daughter-in-law Diane Homrich; siblings Tizzy (Raymond) Sanders, Mike (Martha) Stonerock, Steve (Cindy) Stonerock, Jeff Stonerock; sisters-in-law Sara McConnell and Linda McConnell; as well as many nieces and nephews. She was "Nonna" to her 5 grandchildren: Brian Micocci, Jenna Sola (Eric), Kevin Micocci (Krista), Carly Stuart-Micocci, and Omar Abbouchi; and 6 great-granchildren: Garrett, Kara, Ava, Zoey, Mia, and Aria.
Arrangements will be handled by Crowder Funeral Home in Webster, TX. Charlotte's ashes will be interred at Forest Park Cemetery. If you would like to honor her memory and continue her legacy by making a contribution, her family requests donations be made to Helping Hands or Christian Action at St. Bernadette's Catholic Church.
Farewell Prayer
The hand of God shall hold you,
The peace of God enfold you,
The love that dreamed and formed you
Still surrounds you here today.
The light of God beside you,
Above, beneath, inside you;
The light that shines to guide you home
To the loving hand of God.