Charlotte Ann Rhyne Dewey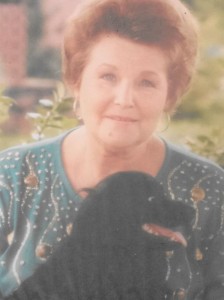 Charlotte Ann Rhyne Dewey passed away peacefully on Monday May 9, 2016 at the age of 80.
Charlotte was born on April 18, 1936 to Jo Laura Hinton Rhyne and John Henry "Bill" Rhyne in Waco, Texas.  Her family moved to the Seabrook/Kemah area in the 1940's.  Charlotte was a graduate of Webster High School where she was involved in Art, Music, FHA, and Volleyball.  After high school, she studied Art at the University of Houston.  Later in life, she went back to school to become a Massage Therapist and opened a successful Massage Therapy Clinic where she focused on Reflexology and muscle injuries.
She worked for CCISD for several years, and enjoyed volunteering her time in the community.  Her volunteer work included playing the piano at church, rehabilitating wild birds, and mentoring teens through the local Alateen program.
She loved painting, playing the piano, and caring for all animals.  She was absolutely passionate about her family, and was loved by her neighbors.
Those left to celebrate her life are her children Henry Charles (Chuck) Dewey, Jr. of Hitchcock, Texas, and Sharon Dewey Schultz of Houston, Texas; Grandchildren Jessica Dewey, Lindsey Dewey, Kristin Dewey, and Randal (Randy) Cade Schultz; and Great-grandchildren Anna Nichols, and Destiny Stanford; Brother Donald Edward Rhyne and Sister-In-Law Betty Joyce Rhyne of Alabama; Brother John Calvin Rhyne and Sister-In-Law Joyce Rhyne of Port O'Connor, Texas; and Sister-In-Law Susan Perez and her husband Floyd Perez of Clear Lake Shores, Texas; and many Nieces, Nephews, and Cousins.
The family will receive friends at 9:00 a.m. Saturday May 14, 2016 for visitation, with the service to follow at 10:00 a.m. in the Chapel at Crowder Funeral Home located at 1645 East Main Street, League City, Texas.  A graveside service will follow at Mount Olivet Cemetery located at 7801 Gulf Freeway, Dickinson, Texas.