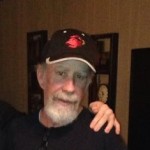 Charles Raymond Hart II
January 13th, 1956 – April 18th, 2014
Charles Raymond Hart II, 58, of Friendswood, TX, passed away unexpectedly on Friday, April 18th 2014. Charlie was born January 13th, 1956 to Patrick and Margaret Hart of Houston, Texas. A graduate of Ross Sterling High School Class of 1974, Charlie was a lifelong Houstonian with passion for sports, especially golf and baseball, coaching his sons and several other young men on the basepaths. As a young man, Charlie spent his time playing baseball, drumming for his band, and learning how to repair cars. He would turn the last activity into a career, serving his community as mechanic for the last forty years.
Though Charlie was not defined by his career, if you are reading this, I bet that, at some point in your friendship with Charlie, you asked him for advice or help with your car or truck. And, without a doubt, Charlie went out of his way to make sure he helped you out. Above all, he was a giving man, putting others first, even if at a detriment to himself. That kind of life leaves one with many aches, pains, and exhaustions. Now, Charlie can finally have some rest.
Charlie is survived by his sons, Michael and Ryan, his girlfriend, Sheila McCrary, and a bevy of loving friends.
In lieu of flowers, please make a donation to your local youth Little League.
Viewing will take place on Tuesday, April 22nd at 7:00pm at the Crowder Funeral Home in Pearland, Texas (2422 Broadway, ph. (281) 412-3000)
A service will be held on Saturday, April 26th at 2:00pm at
1908 Stillwater
Friendswood, Texas 77546