Charles Paul Eidelbach, Jr.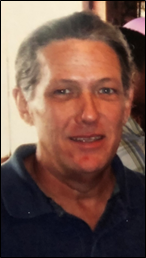 Charles Paul Eidelbach, Jr. (55) of Santa Fe, Texas, passed away on Tuesday, January 15, 2019. He was born in Texas City, Texas to Mary Lou and Charles Paul Eidelbach, Sr. on March 16, 1963. Formerly of La Marque, Charlie attended La Marque schools. Charlie lived in Santa Fe, Texas for the last 10 years where he was a member of the Calvary Crossroads Church .
Charlie is preceded in death by his father. He is survived by his mother, Mary Lou Verkin; daughters, Jennifer Elise Eidelbach of Spring and Rachel Renee Eidelbach of Kingwood; brother, Richard Gilreath; sisters, Mary McDonald and husband Mike, and Paula Gabriles; and six grandchildren, Austin Eidelbach, Jacob Wiles, Adrian Oliva, Evan Brown, Camille Smith and Dylan Brown.
A Memorial Service will be Saturday February 2, 2019, 11:00 am at Calvary Crossroads Church, 3810 FM 646 Road North in Santa Fe, Texas.