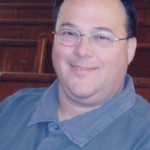 Charles Martin Goff, 63, passed away at his home with his family at his side on May 15, 2014. He was born on May 8, 1951 to James and Genevieve Goff in Lansing, MI.
Charles is survived by his: loving wife of 26 years, Janie Goff; step-son John P. Billings, Jr. and daughter-in-law Samantha Cooke; sister Mary Schueller; brothers Dennis and Frank Goff. He was preceded in death by his brother, David Goff. Charles worked as a manager for Jay's Chalet, Starboard Tack, Trail ways Food Services, Burger King Restaurants and as a district manager for PepsiCo/Taco Bell Division. Charles never met a stranger and he loved his neighbor as himself.
Visitation will be held on Monday, May 19, 2014 from 6:00 PM to 8:00 PM with a Rosary at 7:00 PM at Crowder Funeral Home, Webster, TX. Mass will be held on Tuesday, May 20, 2014 at 10:30 AM at St. Bernadette Catholic Church, 15500 El Camino Real, Houston, TX 77062. Following the Mass, lunch will be served in the Parish Life Center. Graveside services and interment will take place at 1:30 PM at Mt. Olivet Catholic Cemetery, 7801 Gulf Freeway, Dickinson, TX 77539.
Those wishing to make a memorial donation in Charles' memory in lieu of flowers may do so to, American Diabetes Association.