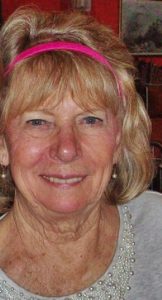 Charlene Motz Hickman of Houston, Texas (formerly of Monaca, Pennsylvania) transitioned from this life on August 26, 2022, in Nassau Bay Texas, after an extended illness. She was born on December 2, 1937, in Rochester, PA. Although she struggled for several years, she never once complained and handled her illness with immense grace.
She was preceded in death by her mother and father, Mildred and Charles Motz, mother-in-law and father-in-law Dorothy and Fred Hickman, sister, Mimi Catanzarite, nephew Samuel Catanzarite, Jr. and daughters-in-law, Joanie Hickman and Patty Hickman (both in 2022).
Our wife, mother and grandmother was a kind and caring person and we will dearly miss her.  She was our leader and our "go-to" person.  No matter what our ages, our questions and problems were always first directed to her for her opinion.  We will miss that guidance.
Most of our family lived within one-half mile of each other and we were in and out of all houses continually (mostly the red-headed grandkids who were always welcome anywhere).  We enjoyed many evenings sitting in the driveway visiting with each other and whoever happened to pass by.
She was an avid (some would say obsessed) Steeler fan.  Any and all activities during football season had to be planned around "the game".  It made us all happy that she had something that gave her so much enjoyment.
She worked as an Education Secretary at the University of Houston Clear Lake for over 20 years, always dressed perfectly and looked beautiful when she walked out the door in the morning.
In her later years and much to our surprise she allowed dogs in the house.  Over the years, they became of some of her best friends.
Charlene is survived by her husband of 64 years, Bob, who became a most willing and excellent caregiver, daughter Kim Plemons (Tom) of New Ulm, Texas, sons, Rick and Bob both of Houston Texas, grandsons, Nathan Hickman and John Charles Rodriguez both of Houston, Texas, granddaughter and fiancé, Katie Hickman and Adam Wiggs both of Denver, Colorado, brother-in-law Sam Catanzarite of Monaca, Pennsylvania, nephew Jeff Catanzarite (Lisa) and family of Pittsburgh Pennsylvania. She also maintained close relationships with special friends Jack and Shirley McKay of Center Township.
Visitation will be Friday September 2, 2022, from 6 p.m. to 8 p.m.; funeral services will be Saturday, September 3, 2022, at 11 a.m., visitation at 10.  All will be at Crowder Funeral Home, 111 East Medical Center Blvd., Webster, Texas.