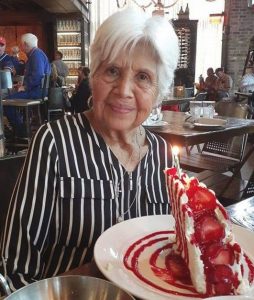 Cenobia Juarez, 87, passed away on March 28th, 2023, in her home in Friendswood, TX.
She was born on June 19, 1935, in Kingsbury, TX. Cenobia is survived by numerous family members and friends.
Known to us as Mom, Grandma, and Nini, she was the matriarch, the foundation of the Garcia/Juarez family. She loved unconditionally, without judgement. She enjoyed making tortillas, cleaning, and playing Kings in the Corner with her family – She was great at all of them! She began her life without much love or support. She died surrounded by the love that she created. Long live the beauty and love that she passed down and through and into all of us.
"I will meet you in the morning, just inside the eastern gate."
A Vigil will be held on April 13th, 2023, at 7PM at Crowder Funeral Home located at 111 E Medical Center Blvd., Webster, TX 77598.
The Funeral will be held on April 14th at 2PM at St. Paul the Apostle Church located at 18223 Point Lookout Drive, Houston, TX 77058