Catherine Josephine Lednicky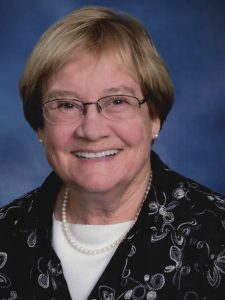 Catherine Josephine Lednicky, 85, passed away peacefully on April 8, 2022 in Austin, Texas. She was born on September 27, 1936 in Leroy, Texas to Louis E. Uptmore and Mary Olsovsky.
As a child, Catherine attended St. Martin Catholic School in Tours, Texas, where she was an excellent student.  She grew up on a farm and picked cotton for most of her childhood years. She was hardworking, tough, resilient, fun-loving, adventuresome, and slightly mischievous.
Catherine graduated from West High School in West, Texas, in 1955.  She played the clarinet in the band. She earned a nursing degree from Providence School of Nursing in Waco, Texas, and was the valedictorian of her class.  She worked as a Registered Nurse in the Maternity and Oncology units of several hospitals. In her last position before retiring, she worked nights in the Oncology ward of St. John Hospital in Nassau Bay, Texas. She was a compassionate caregiver and formed friendships with and eased the passing of uncounted cancer patients.
Catherine married Edward F. Lednicky on May 7, 1960, and moved to Biloxi, Mississippi. They had four children. As the wife of an Air Force officer, she moved her family to nine different Air Force bases in the U.S.  She cared for her four children solo for a year while Ed served a tour overseas. She volunteered thousands of hours at U.S. Air Force Family Services and won numerous awards for her service. When Ed retired from the Air Force in 1980, they moved to Clear Lake, Texas.  In 2017, she moved to Anderson, South Carolina to live with her daughter and two of her grandsons.
Catherine was a kind, patient and loving mother and grandmother. She insisted that her children take music and swimming lessons and play at least one sport. She worked many extra hours to help pay for her children's college educations. She volunteered as a Cub Scout Den mother and was a member of the Garden Club. She had a wide range of interests and hobbies, including reading, quilting, crocheting, golf, Tai Chi, yoga, gardening, travelling, bike riding, playing the piano, walking her dogs, studying French and art, playing dominoes and attending musical and theatrical performances. She had a calm demeanor, infectious laugh and a playful wit.
Catherine was a devout Catholic and was active in her parishes. At St. Bernadette Catholic Church in Houston, Texas, she volunteered for the Helping Hands Ministry preparing funeral meals and providing transportation to medical appointments, and for the Health Ministry checking blood pressures after Sunday Mass.
Catherine was preceded in death by: her parents, Louis and Mary; her husband, Edward; and siblings, Lillian, Clement, Dorothy and Louis.
Catherine is survived by: her children, Thomas, Suzanne Mika, James and John; her daughters-in-law, Brigid and Barbara; her siblings, Andrew, Bernice Soukup and Margaret Lesinski; her grandchildren, Nikolas Mika, Andrew Mika, Louis, James, Anne, David, Lillian Eliaz, Brenna Eliaz and Claire Eliaz.
Visitation will be held on April 21st at 6:00 pm, and Rosary will be recited at 7:00 pm at Crowder Funeral Home, 111 E. Medical Center Blvd, Webster, TX 77598. A Funeral Mass will be held on April 22nd at 10:30 am at St. Bernadette Catholic Church, 15500 El Camino Real, Houston, TX 77062. She will be buried at 1:00 pm at the Houston National Cemetery, 10410 Veterans Memorial Dr, Houston, TX 77038.
The family would welcome flowers or donations in Catherine's honor.  Donations may be made to the charity of your choice or to the Helping Hands Ministry of St Bernadette Catholic Church, 15500 El Camino Real, Houston, TX 77062 or to A Living Tribute (www.alivingtribute.org) where you can request that a memorial tree be planted in Catherine's honor.
https://www.crowderfuneralhome.com/obituaries/catherine-josephine-lednicky/