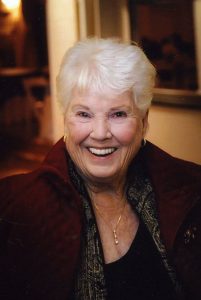 Carolyn Lou Nicolaidis, 76, of Santa Fe, former longtime resident of Texas City, passed away August 16, 2017, in Webster.  Carolyn was born August 22, 1940, to George and Olene Rosendahl in Galveston. She attended Ball High.  After marrying her high school sweetheart, Pete, Carolyn worked as a bookkeeper for TCR, the City of LaMarque Water District, and Rosie's Exxon in LaMarque (her brother George's station.)  She was active with her children serving as team mom for their Little League and softball teams in LaMarque. She was a devoted wife, mother, grandmother and great-grandmother who will be missed.
Carolyn was preceded in death by her parents; her beloved husband of 56 years, Pete Nicolaidis, Sr.; daughter Teri Nicolaidis; and brother George Rosendahl, Jr. She is survived by her daughter Tina Lyons and husband Mark; sons Pete Nicolaidis, Jr. and wife Penny, and Larry Nicolaidis and wife Rita; sister Virginia Decker; brother John Rosendahl and wife Trish; grandchildren Savanna Hantz and husband John, Pete Nicolaidis, III and Taylor, Nathan Norgan, Kayla Burd, BJ Burd and Wendy, Rachel Lyons, and Zachary Lyons; and great-grandchildren, Eli Hantz, Isaac Hantz, Pete Nicolaidis IV, KenLee Nicolaidis, Robbie Monroe, Marcus Villarreal, Jayse Roe, and Jolee Burd.
A visitation in her honor will be held 5:00 – 8:00 pm, Sunday, August 20, 2017, with funeral services 10:00 am, Monday, August 21, 2017, at Crowder Funeral Home Chapel, Dickinson, Texas.  Pastor Steve O'Donohoe will be officiating.
Honored to serve as pallbearers are Chris Harrison, Rich Gustafson, Randy Harp, Gill O'Bally, Jerry Stallard, and Billy Whitehall.