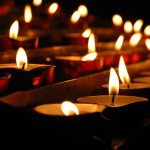 Carolyn Bulcken (1933-2015), known as gmom, was a very special lady to many . There is another star in the sky, as another point of light has moved to the heavens. A resident of Dickinson for the past 50 years, her light will continue to shine over many.
On a slow day, Mom balanced the duties associated with raising her own four kids and taught reading or history to children at McAdams Junior High School. In the evenings, she was leader of Girl Scout Troop 12 for almost 10 years.  Mom gave many children the opportunity to learn through experience; she was well known for venturing into state parks for a week at a time accompanied by 30 giggling, fidgeting girls. She had few behavior problems with any of them; she listened and mentored to all and helped more than a few get through their teenage years.
Mom valued education nearly as much as she valued family. A graduate of Towson State University, she continued her education and attained her MS in Educational Diagnostics at University of Houston Clear Lake.  A paving stone was placed there in her honor several years ago.  After her retirement, she loved to traipse about the world with her traveling pals Linda, Betty, Donna, and Darla.  She brought home many tales and tokens from her adventures in Russia, China, Europe, Egypt, Panama, Mexico, the Caribbean, and other far off places.
She was very proud of her four children:  Dr. Cheryl Sawyer ( Gary); Cindy Coker (James); Bill Bulcken; and Richard Bulcken (Andrea). Her 10 grandchildren (Tessie, Will, Chris, Jesse, Katie, Dan, Stacy, Julie, Stephie, and Levi) and her great grandchildren (Aleia, Lukas, Joshua, Maddy, Jackson, with two more on the way) were a tremendous source of pride. Mom continually shared their adventures, exploits, and anecdotes with her family and friends.
Stop by and visit a bit with family to share stories and hugs. We will be at Crowder Funeral Home in Dickinson on Friday March 20, 2015 from 9-11 am. A celebration of life service will be at the First United Methodist Church in Dickinson at 12:30 pm, also on Friday