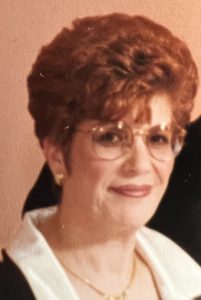 Carmela Romano (née Maganuco), 78, of League City, TX peacefully passed away on August 29, 2022 surrounded by loved ones after a difficult battle with uterine cancer.
Carmela was born on January 23, 1944 to Emanuele and Giuseppina Maganuco in Sicily, Italy. In 1963, she married the love of her life, Umberto Antonio Romano. They went on to have three children. Carmela was a devoted mother, wife, aunt, and grandmother to all of her loved ones.
Carmela enjoyed crocheting, netting, cooking, and loving her family fiercely. She enjoyed creating scarfs, blankets, and more to all her family and friends. Carmela also enjoyed visiting with friends and family. She was selfless even towards her final days.
Carmela was preceded in death by her parents, Emanuele and Giuseppina Maganuco, her brother, Giovanni Maganuco, and her loving husband, Umberto Romano.
Left to cherish Carmela's memories is her daughter Daniela Trama, husband Joseph, and their daughter, Alexa; her son Salvatore Romano and his children Val, Alberto, Giulia, and Michael; her daughter, Grace Kauffman, husband James, and their children Joseph and John; her brother Salvatore Maganuco, wife Louise, and their children Josephine, Neil, and Luiciana; her brother Giuseppe Maganuco, wife Rosa, and their children Giusi and Annalisa; her sister Maria Giovanni Maganuco, husband Giovanni Perrotta, and their children Concetta, Salvatore, and Imanuel; and numerous nephews, nieces, and friends.
Carmenla's family will receive visitors on Thursday, September 1, 2022 from 5:00-8:00pm with a Vigil at 7pm following at Crowder Funeral Home in League City.
A  funeral service will be on Friday, September 2, 2022 at 10:00am on St Mary Catholic Church, 1612 East Walker, League City, Texas 77573 with internment at Forest Park East immediately following.