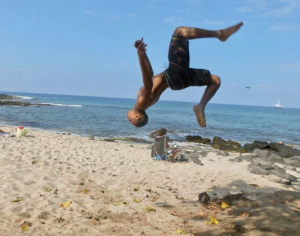 Calvin Christian Jordan was born on January 23, 1995, in Oxnard California to Christie (Gray) Gabino. In 2005, Calvin was lovingly adopted by his father, Richard (Todd) Jordan. Calvin peacefully passed away at home on February 3, 2023.
In 2001, Christie and Todd relocated to Las Vegas, NV where they raised their children. Although Calvin was a quiet son, he often showed his bright, intelligent and charismatic personality through his passion for music, science, chess, photography and parkour.  Calvin surprised his entire family when we auditioned and won the honor of serving as his Junior High School Mascot (Go Coyotes!). Calvin graduated from Arbor View High School, in 2012. At the age of 17 years old, he joined the Navy and served on the USS Ronald Reagan in San Diego, California. Calvin was honorably discharged in 2015.
Calvin is survived by his loving mother Christie Adele Gabino; his two daughters beautiful Lilyanna Christine Jordan (9) and Maia Adele Jordan (4); his father Todd Jordan, and two stepfathers Gabriel Gabino and Diallo Malik Hall; his maternal grandparents Calvin (Butch) Gray (Debra) and Susan Davis (Rod); his paternal grandparents Richard Jordan (Charlene) his two sisters, Daena Renee Jordan (29) and Addie Iola Hall (24) and two stepbrothers Zachary Gabino (23) and Quinn Gabino (22); and a host of uncles, aunts, and cousins.
In lieu of flowers, please consider a donation to Bay Area Turning Point at https://bayareaturningpoint.networkforgood.com/projects/107073-main-donation-page located in Webster, Texas.
Calvin's Celebration of Life will be held on February 10, 2023, at 10:00 a.m. at Crowder Funeral Home, 111 E. Medical Center Blvd. Webster, TX 77598 Tel: (281) 280-9000.