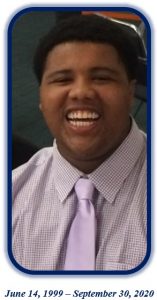 Our beloved Caleb Jaron McCarty fell asleep in death on September 30, 2020. Caleb was born on June 14, 1999 in Webster, Texas. Caleb was one of four children. Caleb loved his family dearly and he will forever be loved by all those who truly knew him.
Growing up, Caleb loved to sleep and play video games. He was something fierce on NBA2K! Caleb loved spending time with his friends and family. To some, he was known as our "K-K." Caleb also loved to make people laugh. He was often referred to as a "Big Ol' Teddy Bear!" One time, his grandma tried to give him some frozen bacon, and he said: "What am I supposed to do with this? I don't know how to cook!" That was our beloved Caleb… he was always acting silly and having fun.
Caleb is survived by his mother: Michelle McCarty-Merchant, Daddy/Pops: Andre Merchant, paternal father: Earrand Peoples, great grandmothers: Delores Turner, Annie Lee, & Pearlie Mae Johnson, and grandparents: Alton Ray & Anita McCarty, Linda & Ali Telfah, Debra & Thomas Merchant. Caleb's siblings include: Chase, Calani, Cadyn, Andre Jr., & Daquinton. Caleb's uncles include: Adrian (and his wife, Chechi), Big Mike, Lil Mike (and his wife, Jenn), Gerald (and his wife, Tamara), & Kenneth. Aunts include: Ardesia, Diedra, Danita, Charlette, Tracey, Tanisha, Tanya, & Inez. Caleb also has a whole tribe of family, including several cousins and many friends. Caleb is preceded in death by his grandparents, Sarah Hill, and James Turner, and uncles, Lance Peoples and James Martin.
The Family would like to thank everyone for your support. We express thanks to all who have extended their love, prayers, and encouragement during this extremely difficult time. We appreciate and love each of you. Caleb will be greatly missed by his friends and family. However, we give thanks to our Heavenly Father for giving us hope, which serves as an "anchor" to stabilize us (Hebrews 6:19), by means of His many promises found in the Holy Scripture.
A private service for family by invitation only due to limited capacity and COVID-19 restrictions. Masks will be required upon entry.