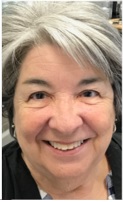 Brenda Nell Robinette, 80, a long-standing resident of Clear Lake passed away Thursday, April 14, 2022, in Webster, Texas.  She was born on May 3, 1941, in Alexandria, Louisiana to Thomas (TC) and Edythe Bridges.  Brenda is survived by her husband, Allen Robinette.
Brenda grew up in Alexandria and graduated from Bolton High School.  She earned a Bachelor of Science from Northwestern State University and a Master of Science from Louisiana State University. (Geaux Tigers!)  Brenda and Allen met in Fishville, LA at a summer camp in 1962.  They married in 1963, during which time Allen was a member of the US Air Force.  In their early years, they lived in several places including Louisiana, New Jersey, Nebraska, and Mississippi.  It was during this time their family expanded with the birth of their three daughters, Mandi, Cammi, and Meri.
In 1968, they moved to Clear Lake.  With Brenda's entrepreneurial spirit and her passion for cooking, Brenda became the founder and owner of Robinette & Company.  To quote a business article in Women in Business, "Among the many things that Brenda Robinette is really good at, the obvious is cooking and catering.  But if you spend just a short time with her, you immediately recognize that she can tell some great stories.  This is partly due to the fact that for almost 40 years she has been a part of the 'cuisine community' in what is now known as Houston's Bay Area."
Brenda is preceded in death by her parents.  In addition to Allen, Brenda is also survived by her daughters, Mandi (Michael) Kapp, Cammi Robinette and Meredith (Chris) Benson, sons Alex Johns, Joseph Robinette, and Jordyn Robinette.  Also survived are grandchildren Dylan Kapp, Olivia Kapp, Stephen Benson, Ryan Benson, and great-granddaughter, Remi Robinette.
Brenda was the life of the party, loved to travel, and never met a stranger.   She was a beloved friend, second Mom, and Mamaw to many.   As the light and heart of Robinette & Company, she loved her team of Amy, Shannon, Felipe, Ricardo, Pedro, Nicole, Enrique, Alex, and Savannah.
A special thanks to the support given to Brenda over the past year – Blanca Solis, Amy Doherty, Leslie Twyman, Nikki Terrill, Maggie Fisher, Sophie Caliva, JoAnn Pierce, Jorja Lewis, and the staff of HCA, Clear Lake.
In lieu of flowers, the Brenda Robinette Culinary Arts Memorial Scholarship is being established for an in-need student studying culinary arts (i.e., cooking) from the Bay Area.   Your donations are greatly appreciated.  Click here for more information: https://everloved.com/life-of/brenda-robinette/donate
Visitation will be held on Wednesday, April 20 at Crowder Funeral Home from 6-8 pm, with a Rosary at 7 pm.  A funeral mass will be held on Thursday, April 21 at St. Paul the Apostle Catholic Church in Nassau Bay at 10:30 am.  A reception will immediately follow at Butler's Courtyard in League City.  A private interment will be held on Friday at the Houston National Cemetery.
To honor Brenda, the family requests you dress in your favorite spring attire.  She loved this season and all its vibrant colors.  Brenda will be truly missed.