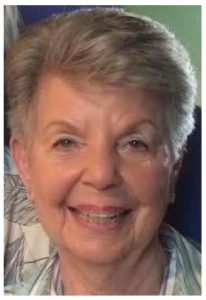 On December 19th, Brenda Hester Perricone passed away peacefully at the age of 82 in Cypress, Texas.
Brenda, a fourth generation Texan, was born at home in Corpus Christi. For most of her life, she continued to live on or near the Texas Gulf Coast. Her childhood memories of watching her mom cook breakfast on the beach while her dad fished, were permanently etched in her mind. She often stated that she was drawn to the water and in awe of the dunes.
She was an elementary teacher, a voice in government spearheading The Texas Political Action Committee in Austin, and later, a real estate broker, managing the Keller Williams Clear Lake location for many years until her retirement.  Through her volunteer efforts, manager, and a mentor, she touched many lives and built many lasting friendships.  She was loved and respected by all she came in contact with.
Brenda was wise, unselfish, always putting others' needs above her own. She was a devoted daughter, dedicated mother, and loving grandmother.
She was an avid gardener, always searching for native plants to attract wildlife.  Most days she spent on her patio, feeding the birds, nurturing her plants, luring hummingbirds, and watching the butterflies.  She often gave updates to family as to how many caterpillars and butterflies she spotted.
Brenda is preceded in death by her father George Ralph Hester, her mother Ava Irene Hester and her husband Michael Leon Perricone. She is survived by her son Jay Carroll of Houston, her daughter Amy Carr of Florida, Ashley Staniforth of Austin, her brother Jim Hester of Dallas, granddaughters Cameron Taylor of Seabrook and Avery Waltmon of League City, grandson Ethan Staniforth, and little Josie Rae…her one-year-old great-granddaughter!  Attending Josie's first birthday this year was a momentous occasion for her and one of the last memories all share.
The family wishes to thank the staff of Avanti Senior Living for their compassionate care and friendship during her residency there.
Private family services will be held at a later date. Brenda desired that any memorials be made to St. Paul The Apostle Catholic Church, 18223 Point Lookout Drive, Nassau Bay, TX 77058.
"And God shall wipe away every tear from their eyes; and there shall be no more death, nor sorrow, nor crying. There shall be no more pain, for the former things have passed away." Rev. 21:4.