Bradford Michael Scardino, Sr.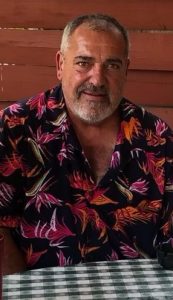 Bradford Michael Scardino, Sr., 62, a Manvel, TX resident, formerly of Pearland, TX, passed away April 27, 2022, in Manvel, TX. Bradford was born on December 16, 1959, in Houston, TX. He was a member of St. Helen Catholic Church and was the owner of Bulldog Builders since 2014.
He reunites with his parents, Andrew and Jeannette Scardino.
Bradford is survived by his daughters: Tara Renee Scardino, and Jessica Leigh Scheer, husband Josh; sons: Matthew Scardino, fiancée, Brandy Groth, and Bradford Michael Scardino, Jr.; grandchildren: Kristian, Kamryn, Tyler, Donovan, Evelyn, Aidan, Jackson, Lexington, and Winfield; sisters: Laurie Helm, husband Bob, Cindy Wilson, and Carrie Consolvo, husband Wayne; brothers: Richard Scardino, wife Melinda, and Andrew Matthew Scardino, III.
A visitation will be held from 5 to 8 p.m. on Wednesday, May 4, 2022, in the chapel of Crowder Funeral Home. Funeral Mass will begin Thursday, May 5, 2022, at 10 a.m. at St. Helen Catholic Church in Pearland, TX. The Committal and Burial service will be on June 3rd at Holy Ghost Catholic Church in Bellaire, TX.
In lieu of flowers, please make memorial contributions to the Lone Survivor Foundation [https://lonesurvivorfoundation.org/donate-now/].