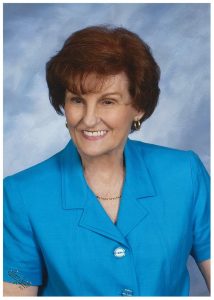 Bobbye Jo Trabanino, 92, of Houston, Texas, passed away on October 21, 2023 surrounded by her family. Jo was born December 3, 1930 in Houston to Frank and Grace Wadley. Jo grew up in the Heights with her mother and graduated from Reagan High School. She was a 1953 graduate of the University of Houston where she studied education and received her Masters in Guidance and Counseling at Sam Houston State University. She was an accomplished dancer and dance teacher, and remained an active member of her sorority, Zeta Tau Alpha, well into her seventies.
After leaving University of Houston, Jo married Rudolph "Rudy" Trabanino and had two children, Robert and Blair. After travelling for Rudy's work with NASA, they eventually settled in Clear Lake City, where Jo held board positions in her community, allowing her to exercise her passion for various causes. Besides being a devoted mother, Jo was a math teacher, a counselor, and the small business owner of Bay Area Trophies. She was a founding member of First United Methodist Church in Clear Lake City, where she was active in many ministries, including travelling to Ecuador for a mission trip in her early eighties.
Jo enjoyed weekly games with her bridge community and travelling around the world, both independently and with family, throughout most of her life. She was known best for her gratitude, her witty humor, and her love of learning and books. Besides her family, what Jo loved more than anything was the Houston Astros, so much so that at 86 years of age, she attended Game 5 of the 2017 World Series at Minute Maid Park, fulfilling a life-long dream.
Jo, affectionately called "Mamaw" by her grandchildren and great-grandchildren, was a loving and dedicated grandmother. She attended every performance, sporting event, birthday party, and Sacramental celebration, even when it meant travelling long distances or staying overnight. She was always available to her family, both in big ways and in the small, simple moments, and she was quoted, until the end, saying, "My family is my life."
Jo is survived by her loving family: son, Robert Trabanino, and wife, Debra; daughter, Blair Adams, and husband, David; 7 grandchildren; and eleven great grandchildren. She will be missed dearly.
There will be a Celebration of Life on Friday, October 27th, at 10 o'clock in the morning at Clear Lake United Methodist Church, beginning with a family visitation, followed by the funeral service at 11 o'clock. A reception will follow in the Fellowship Hall.