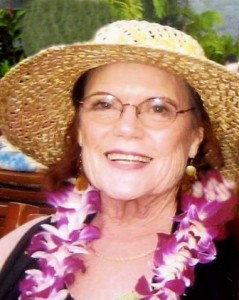 On Monday, September 21, 2015 Bobbie Jean Hall Ashley, 85, was called home to be with the Lord. She was born in Dallas, Texas April 24, 1930 to Homer H. Hall and Nannie Belle Hall. Bobbie known as "Bonnie" to her friends began her career as a Big Band singer –her billing was "Bonnie, The Sweet with the Beat". She met her husband, Ed Ashley a USAF Captain and married him in 1950. They had three children, Debra Ashley, Cheryl McComack, and Edward S. Ashley II. She had a long career as a Real Estate Agent/Broker many years both locally and in the San Antonio area. Bobbie was a loving wife, mother, grandmother and great-grandmother.
She is survived by her three children, five grandchildren, and ten great-grandchildren, of whom she loved "from the bottom of the earth to the tops of the heavens…and even more than that." She will be missed, but remain in our hearts forever. In lieu of flowers, please donate to the Alzheimer's Foundation of America, alzfdn.org
Visitation will be held from 6 p.m. – 8 p.m. Thursday, September 24, 2015 at Crowder Funeral Home in Dickinson, Texas. A private burial of cremains will be held at a future date.