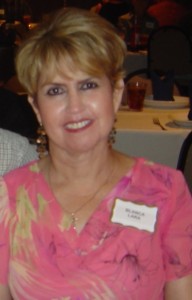 Blanca Estela, nació el 9 De Abril del ano 1956, en Saucillo, Chihuahua. Acompañada de su esposo, Roberto, hijos, Jesús Roberto, Janet y Edgar, su Madre, hermanos y amigos, entro a la casa de su señor el 18 de Enero del 2016. Era la tercer de nueve hijos de sus padres Augustine Muñoz Bejarano y María Muñoz Sánchez.
Blanca vivió una infancia al redor de sus ocho hermanos; le gustaba pasear en bicicleta acompañada de sus hermanos así como también jugar basketball y volleyball.  A los 17 anos, se mudo con su hermana a El Paso, Texas en donde trabajo y conoció al amor de su vida, su Honey, Roberto Lara. Fueron casados el 22 de Diciembre del ano 1979. Tuvieron tres hijos: Jesus Roberto, Janet y Edgar. Después de 17 anos en El Paso, se mudaron a Houston, Texas. Blanca se empeño en aprender Ingles siendo el primer escalón para conocer a muchas de sus amigas.
Blanca vivió su vida disfrutando de su familia, de la vida, y de todo que se le presentaba de frente. Le encantaba andar de fiesta, bailando, y haciendo la gente reír. Le gustaba ir de viaje, conociendo diferentes lugares, ir de campamento, y estar visitando su familia en México. Era una gran persona, siempre muy alegre, sonriente, segura de si misma, generosa, firme y cariñosa. Blanca seguirá viviendo en los corazones de los quien mas la quiera y siempre sera recordada.
Que descanse en paz querida Blanca, esposa, madre, hija, hermana y amiga.
A Memorial Service will be held at 10:00am, Saturday, January 23, 2016 at Crowder Funeral Home in Webster.  Blanca will be laid to rest at Fort Bliss National Cemetery in El Paso, Texas.
Blanca Estela Lara, was born on April 9, 1956, in Saucillo, Chihuahua. Surrounded by her husband, Robert, children, Jesus Roberto, Janet and Edgar, her mother, siblings and friends, Blanca entered the house of her Master on 18 January 2016. She was the third of nine children born Agustin Bejarano Muñoz and María Muñoz Sánchez.  Blanca was raised with five sisters and three brothers.  She liked walking and riding her bicycle with them as well as playing basketball and volleyball. At 17, Blanca moved with one of her sisters to El Paso, Texas where she worked and met the love of her life, Roberto Lara. They were married on December 22, 1979 and had three children, Roberto Jesus, Janet and Edgar. After 17 years in El Paso, they moved to Houston, Texas. Blanca was determined to learn English and developed many friendships. Blanca lived her life enjoying her family. She loved partying, dancing and making people laugh. She enjoyed traveling to different places, camping, and visiting her family in Mexico. She was always cheerful, smiling, confident, generous, strong and loving. Blanca lived her life enjoying her family and their hearts now have a whole in them which will be filled with love and memories. May she rest in peace, dear wife, mother, daughter, sister and friends.