Billie Margaret McDow Neumann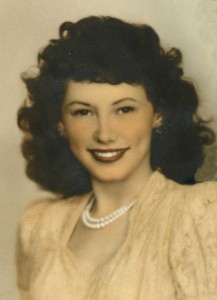 Billie Margaret McDow Neumann was born on March 28, 1929, in Houston, Texas, to Gladys and Asa McDow. In 1946 she graduated from Ball High in Galveston, Texas, where she was a distinguished student. Billie and George Harry Neumann were married in 1947 and made their home in the island city. The couple produced a son, George Harry Neumann, Jr., and a daughter, Peggy Sue Neumann Levin. Billie operated insurance and real estate businesses and joined her husband in the family automobile enterprise, Galveston Battery and Electric Company. She was active in island politics, women's fashions, and the Lutheran church and held a private pilot's license.
Billie was a devoted grandmother and great grandmother, and she was the family matriarch for many years. Family members regularly gathered at Billie's and George's Santa Fe, Texas, ranch, where they raised Longhorn cattle and horses.
She is survived by her husband; son; daughter; son-in-law, David Levin; daughter-in-law, Janice Neumann; sister, Kathryn Brown; grandchildren, Lane and Meredith Levin, Matthew and Lindsey Levin, Michael and Holly Neumann, and Lauren Neumann Sheer and Jim Sheer; great grandchildren, Bryant Cole Levin, Evelyn Grace Neumann, Phoebe Lynn Neumann, and Barrett Preston and Brady George Sheer; and several nieces and nephews.
Billie will be remembered for her bright spirit, love of outdoors, family commitment, and Texas pride.
She died peacefully in La Marque, Texas, on April 15, 2015, with loving family at her side. Viewing will be from 5:00 to 7:00 pm on April 17, 2015, and the funeral is scheduled for April 18, 2015, 10:00 am, both at Crowder Funeral Home located at FM 517 and Hwy. 646 in Dickinson. Interment will be at Hayes Grace Memorial Park, Hitchcock, Texas.